Children in Action (CIA) is an initiative originally initiated by the National Council of Social Service (NCSS). Launched in August 2015, CIA brings children with and without special needs to play together at inclusive playgrounds. These play activities aim to foster greater awareness and acceptance of children with special needs from a young age.
With effect from 1 April 2019 onwards and in collaboration with the Muscular Dystrophy Association (Singapore), MDAS, CIA has evolved to include all forms of play – beyond the playgrounds. MDAS is spearheading efforts to promote inclusive play among children with different abilities by engaging them in a wide array of play and skill-based activities. Hence, the CIA initiative has now evolved to include all forms of play. Inclusive play is not solely limited at the playgrounds now – instead, it could take place at any suitable venue.
Join us now to play a pivotal role to promote inclusiveness between children of different abilities to build a more caring and inclusive Singapore society through fun and play! We believe that when children play together, they build memories that last forever. If you are interested to be part of this play initiative or have clarifications, email us at cia@mdas.org.sg or call 62596933 or 98219558!
How you can be involved in Children in Action (CIA)
Who can participate

Social service agencies, schools and institutions serving children with/without special needs from the age of 3 to 18 years of age who are interested in promoting inclusive play.

How would the inclusive play activities be conducted

Muscular Dystrophy Association (Singapore), MDAS, would work together with interested agencies to plan and organise inclusive play activities.
Overview – What is Play?
Play is a range of voluntary and intrinsically motivated activities that are carried out for recreational pleasure and enjoyment. It comes in many different forms, ranging from fantasy play to locomotor play.
Through play, children and adults can develop social and cognitive skills, mature emotionally, and gain the self-confidence required to engage in new experiences and environments. Besides that, play satisfies a basic human need to express imagination, curiosity, and creativity, which are vital resources in a knowledge-driven world. The critical skills that children acquire through play form part of the fundamental building blocks of future complex 21st-century skills. Moreover, play is sufficiently important that the United Nations has recognised it as a specific right for all children.
Inclusive play helps children to create a sense of belonging and is the first step to break down social barriers by providing a safe and engaging environment for children of different abilities (children with or without special needs) to interact and learn from each other. Through inclusive play, it also helps to promote understanding and acceptance of children with special needs.
A research conducted by Lien Foundation to examine the attitudes of Singaporeans towards children with special needs had shown that only 1 in 4 children are friends with children with special needs. According to the survey, 64% of the participants had pointed out the lack of opportunities as the main barrier to interaction.
Since play is a natural course of exploration and discovery for all children, we are hence starting with the children as advocates of change, to embrace both similar and different abilities through play. We hope that in turn, this would foster development within the community, environment, and most importantly, all developmental domains of a child.
UNICEF. (2018). Learning through play. Retrieved from here
Lien Foundation. (2016). Inclusive Attitudes Survey. Retrieved from here
History of Children in Action (CIA)
Children in Action (CIA), launched in 2015, is an initiative of the NCSS (National Council of Social Service) to foster play among children with and without special needs at the inclusive playgrounds.
Play is an integral part of a child's physical, cognitive and social development. Playgrounds are a shared space in which children of all ages would regularly visit to facilitate play. However, the design limitations of the existing playgrounds have inhibited children with special needs to maximise their play opportunities there.
To improve the design limitations of the playgrounds, NCSS spearheaded engagement efforts with special education schools, individuals who work with special needs children and the children themselves to explore how to maximise the inclusive experience for every child.
These collaborative efforts have led to the conception of the Inclusive Playground. Currently, there are 7 Inclusive Playgrounds opened by NCSS, 2 Inclusive Playgrounds opened by NParks, 4 Inclusive Playgrounds opened by other organisations, which makes it a total of 13 Inclusive Playgrounds across island-wide. Now, with inclusive playgrounds, children with and without special needs would be able to play together, regardless of their abilities. This establishment also signifies the start to a vision of a more inclusive Singapore society!
EXAMPLES OF INCLUSIVE PLAY OR SKILL-BASED ACTIVITIES
Indoor Play (Game ideas)
Board Games (e.g., Twister)

Bucket-Ball (A game in which players are required to throw objects into a bucket from a distance)

Card Games (e.g., Uno)

Don't Let The Balloon Touch the Ground

Hot Potato (A game in which players are required to under-hand toss a softball or rolled up socks to another player)

Knock it Down (A game in which players are required to strike down objects while maneuvering along a path)

Mini-BMT (Basic Military Training) day camp

Sticky Note Wall Bop

Taiko Drumming
Outdoor Play (Game ideas)
Capture the Flag

Catch the Bubble

Cycling

Dog and the Bone

Dragon Boating

Giant Jenga

Oversized Memory Game

Play at Playgrounds (e.g., Freeze Tag)

Rope Jumping

Treasure Hunt

Tug-of-War
Outdoor Sports Games
Badminton

Floor Ball

Frisbee-Flying

Rock Climbing

Soccer

Wheelchair Basketball
Do take note that the above list of games is not exhaustive. Apart from the list of games mentioned above, we are open to other game suggestions which would help to promote inclusive play.
LOCATIONS OF KEY PLAY EQUIPMENT
all photos credit of National Council of Social Service (NCSS)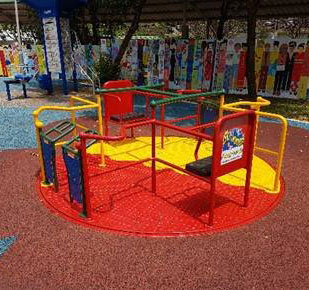 Accessible Merry-go-Round
256 Bangkit Road (Bukit Panjang)
Bishan – Ang Mo Kio Park (River Plains)
City Square Mall
7A Ghim Moh Road
Pasir Ris Park
727 Tampines Street 71
Tiong Bahru Plaza
West Coast Park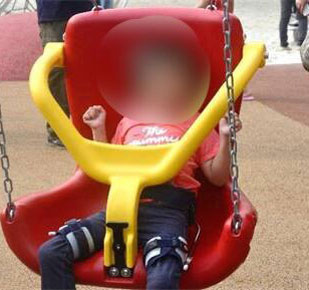 Accessible Swing
Bishan – Ang Mo Kio Park (River Plains)
Canberra Park
City Square Mall
Marine Cove (East Coast Park)
Pasir Ris Park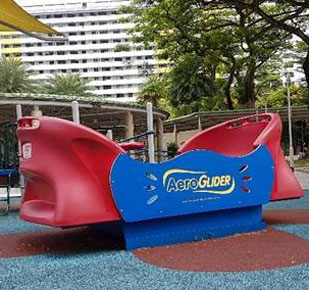 Glider/Rocker (with ramp access)
256 Bangkit Road (Bukit Panjang)
Canberra Park
Enabling Village
7A Ghim Moh Road
727 Tampines Street 71
West Coast Park
LIST OF INCLUSIVE PLAYGROUNDS
Opened by other organisations