VISITOR POLICY
In view of the evolving COVID-19 situation, and the report of new COVID-19 clusters in Singapore, please note these key changes to our visitor policy.
With effect from 3 May 2021, the following individuals will not be permitted to enter MDAS' premises:
Anyone who has been served Quarantine Order OR Stay Home Notice OR Leave of Absence in the past 14 days;
Anyone who has a household member or was in close contact with someone who has been served quarantine order in the past 14 days
Under the Infectious Disease Act, anyone making a false declaration can be prosecuted.
These measures are taken to protect the safety of our clients, caregivers, visitors and staff. We apologise for any inconvenience caused.
Thank you for your understanding and cooperation.
SAFE MANAGEMENT MEASURES (SMM) NOTICE
In view of the current Safe Management Measures, only visitors by appointment will be allowed entry into the MDAS premises until further notice. Please call us at 6259 6933 to inquire on making prior appointments for visiting.
For visitors by appointment, please ensure that you have your mobiles ready to complete SafeEntry and MDAS Health Declaration at the entrance.
We thank you for your cooperation and patience!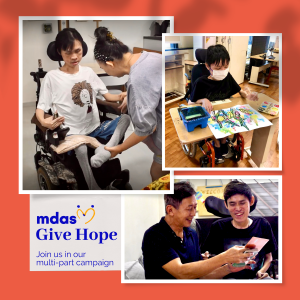 Striving Together Through COVID-19
Danial
"My favourite activity is power soccer. I like to play soccer and enjoy playing with my friends."
Judy
"I love interacting with members and talking with them on just about anything and witnessing them transforming into more confident individuals."
Karen
"MDAS has been very helpful and supportive to our family as a whole, not just to Gareth only."
Gareth
"I think Singaporeans need to be more daring to approach us and ask how they can help us when we need help."
raised through community outreach programmes since 2000 to improve the lives of the families as well as for those with Muscular Dystrophy
of impacting the lives of individuals with Muscular Dystrophy in Singapore
served since the founding of Muscular Dystrophy Association of Singapore
Boccia
Held every Wednesday afternoon
Power Soccer
Friday evenings
(6pm - 8pm)
Bridge Class
Held on Mondays and Tuesdays
Art Class
Held every Wednesday morning
(10.30am - 12pm)